Written by Christian A. | 20 May 2011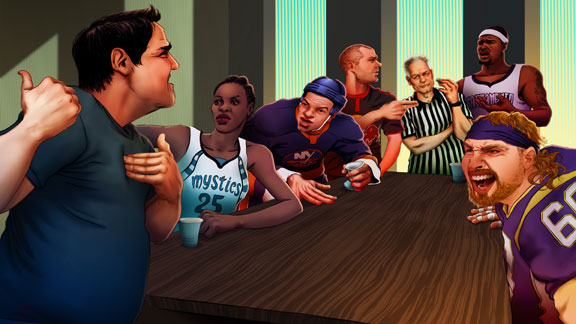 Isles enforcer and the most outspoken player on the Islanders roster is featured in an article appearing in the May 30 issue of ESPN the Magazine.
"Whistled While They Worked" features Konopka and four other often penalized athletes in a round table discussion with Kenny Mayne to talk about taking penalties and receiving fines. The other athletes featured are Monique Currie of the WNBA, Jared Allen of the NFL, Joel Lindpere of the MLS and Dallas Mavericks owner Mark Cuban.
Konopka has become a fan favorite on Long Island and has never given second thought to speaking his mind. During a January visit from the Ottawa Senators, Konopka declared the Islanders weren't the "doormats of the NHL" as TSN camras and commentators sat in the stands for the morning skate. The statement was in response to an anchor on TSN's Sports centre cracking a joke at the Islanders expense.
The article, which can also be found on ESPN.com, is an entertaining read even without Zenon in it. Mark Cuban's comments are as hilarious as they are honest. Cuban is also known for his fire passion and being one of the most outspoken owners in sports. Here is just one quote by Mark Cuban from the article: "Eight years ago it felt like I was getting fined every other week. I could say, "The sky is blue" and they'd say, "F--- you, that's 25 grand." They were trying to beat me into submission. It just made me madder."
After the Jump you can read Zenon Konopka's answers from the round table discussion.
(From the article
"Whistled While They Worked"
)
Kenny Mayne: So, you're a troublemaker. Fouls, penalties, fines… you have a lot. Why?

Zenon Konopka: For me, it's a matter of making sure the skill players on my team are comfortable. If something happens to them during a game there are no repercussions for the other team, people will say, "Why didn't you take care of business?"
Zenon Konopka: The thing causal fans don't understand is that we're not jumping onto the ice and trying to grab someone to bash his brains in. It's all in the interest of helping our team win games – and sometimes that means waiting. Instead of retaliating in the third period of a 1-1 game, you might wait until the next time you play them. But you need to send the message: Remember last game, when you hit John Tavares? You're not going to get away with it.
Kenny Mayne: For a "menace," you seem to be good-natured.
Zenon Konopka: I take pride in the fact that I don't often put my team at a disadvantage. As intense as hockey gets, everything I do is calculated – and it works.
Kenny Mayne: But because of that enforcer attitude, is it a situation where refs now think, Here comes that guy – let's see what we can penalize him for?
Zenon Konopka: Possibly. Whether fair or not, when I get on the ice, there's a target on me.
Kenny Mayne: That brings up a good point. You're emotional. That's an asset during games, but does it ever present a problem in real life? Even something as simple as idiots in a bar trying to start a fight?
Zenon Konopka: When I was 18, I'd react differently than I do at 30. The more confidence you have in what you do, the less you have to prove, and the less you'll react to incidents like that. Plus, having been in fights on the ice, I'm far more levelheaded when people are trying to provoke me. If that's a new situation for someone they might be more panicky and react poorly.
Kenny Mayne: Have you at any time during this interview felt like punching me?
Zenon Konopka: Absolutely not. We're trying to gain a rep on ESPN for hockey, not lose it.