Written by Christian A. | 25 July 2011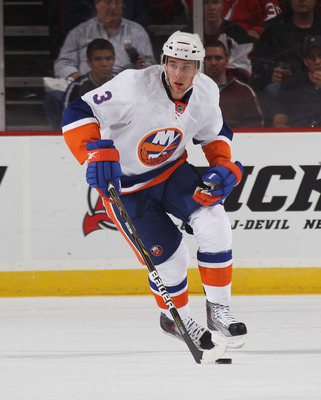 The following is a conversation I had with Islanders defensive prospect Calvin de Haan during Islanders mini camp.

Q: How were the first couple days of camp?
A: It's been a lot of fun. Workouts have been good, the on-ice has been pretty high pace, so it's good to finally get some drills under our belts again.
Q: What are some of the things you worked on between the season and camp?
A: Just overall strength kind of stuff. Ya know, just trying to get better and quicker on the ice. Especially, off the ice as well because the quicker you are off the ice the better your going to be on the ice.
Q: Have any of the younger guys asking you for advice since you've been here before?
A: Not really, its just, I think, everyone is very close already. This is the future of the Islanders and I just try to be welcoming to the younger guys.
Q: What has some of the feedback been from the coaching staff?
A: They don't really say much. Obviously there is a lot of time between now and the season, so I just have to make an impression here and hopefully get an invite for main camp and go from there.
Q: How has your game changed from last year?
A: I think I definitely got a little faster out there, I feel stronger on the ice already. Even though there's not much contact and stuff, but I just feel like I'm a little but stronger out there and I think I can take it to the next level.
Q: How did your World Juniors experience help you?
A: It shows what kind of players are out there and what kind of competition to be the best is. That's the future of the NHL, the World Juniors, and there are a lot of good players that play there and it's a good measuring stick to see where you are at a personal level and where you are as a country as well.
Q: Do the players go through a hockey withdrawal in the summer months the same way the fans do?
A: Yes and no. Obviously guys don't skate as much in the summer, but they have to train and stuff. I think that's part of the hockey as well, obviously its part of the job and spending a lot of time in the gym. I wouldn't call it a withdrawal