Written by Christian A. | 03 August 2011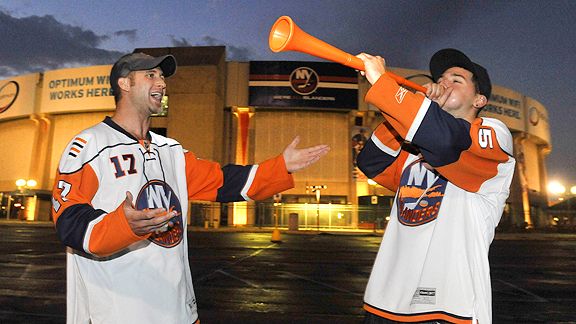 The politicians may be scrambling for plan b on Long Island, but many Islander fans see Monday's referendum defeat as the end.
Anxious fans waited outside the Nassau Coliseum Monday night reacted with anger, disappointment and fear that their team could leave Long Island. Fans outside were mostly part of younger demographic, the group who this project would be benefitting. All whom were stunned by the defeat.
"It hasn't even sunk in yet," Robert Altenburger said in disbelief Monday night.
Islanders fan Chris Anderson added, "It's heartbreaking. There is no other way to put it."
And Bradley Smith added that he was "disgusted" by how the vote turned out.
All three agreed that this was the end for Nassau County's hopes of keeping the Islanders in Uniondale, or even in the county. They all seem to agree that Brooklyn may be the most feasible option right now for the Islanders.
"I cant see them here being turned down twice, both times saying 'this is it, this is it,' and keep coming back, Altenburger said. I hope there is some miracle coming, but I honestly can't see it possible happening.
Although the County says they will get something done, Anderson is still skeptical. "It's just I'll believe when I see it," was his response to whether he believes there is a plan B.
As far as the economic implications and the implications for the future of the county, they all again seemed bleak about it if the team moves.
"Its not even the jobs that now wont happen, it's the jobs we already have are lost. Only will we not gain 3,000, they're going to lose 2,000," Altenburger said about jobs that the project would have created. "So the county itself was ridicules. I'm going up to school this coming year in Buffalo and its probably going to be a hell of a lot cheaper (there). How can I afford to stay down here? It's really going to be tough. If the Islanders aren't here I have no reason what so ever to stay down here at all. I love the Islanders and they're the only reason I consider staying."
Anderson shared similar sentiments.
"The second the Islanders say we're going here and 2015 season ends, I will be where my team is," Anderson said suggesting he would leave Long Island.
Another fan that was outside the Coliseum name Bradley Smith sees how hard it is for young people to stay on Long Island.
"It's really hard for youth," Smith said. Especially the way the economy is, to find jobs and prosper on Long Island. It's forcing a lot of people to leave.
Smith may have also had the harshest words for the politicians who helped kill the referendum.
"I think they failed," Smith said bluntly. "They reached the wrong target and failed the youth miserable. When the youth moves away they're going to have nothing left because eventually the elderly will be gone and there is going to be nothing left of the island. They are ruining a great area."