Written by Christian A. | 26 March 2010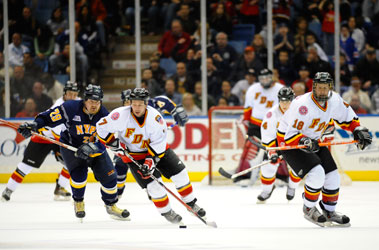 Ever year an annual tradition occurs between the men who protect and serve the great city of New York. The annual FDNY vs. NYPD hockey game will take place for the 37th time tomorrow at Nassau Coliseum with the NYPD looking to recover from last years 6-3 defeat to FDNY.
The series began back in 1973-1974, a series that the FDNY leads with a record of 19-14-2. Both teams play hard and with hockey there are always fights, this match up is no exception.

In the stands, where the arena is split up with FDNY fans on one side and NYPD fans on the other, there are family members, other members of the FDNY or NYPD, and just fans looking for a fun afternoon of hockey. Not to mention some entertaining chants that the FDNY fans come up such as chanting "Dunkin' Donuts." Even getting some anti-Islander and anti-Ranger chants in when their respective tune is played.
Tickets are just $18 and you can sit anywhere you want, but arrive early because tickets go fast for this action packed afternoon game. This game actually draws more fans than most Islander games do (sort of sad). All Proceeds go towards paying expresses for the teams and the rest goes to several charitable organizations. So for a fun filled afternoon of hockey, head on over to the Coliseum and watch the NYPD battle the FDNY for bragging rights over who rules New York.
FDNY Roster
LT

1

Steve King

Div 15

2

Clifford Zeilman

Eng Co. 307

4

Jake Gershen

Ladder Co. 29

5

Mike Agliato

Ladder Co. 163

6

Danny O Shea

Eng Co. 298

7

Derek Kern

Eng Co. 233

8

Bob Scheer

Ladder Co 161

10

Joe Sanger

Ladder Co. 45

11

Joe Strobel

Eng Co. 245

13

Anthony Antenucci

Ladder Co. 11

14

Wes Cookingham

Eng. Co 47

16

Charlie Selock

Eng Co. 317

18

Ed Bohan

Eng Co. 44

19

John Sullvan (A)

Eng Co. 53

20

Michael Keane

Ladder Co. 151

21

Jim Becker

Eng Co. 309

23

Brian White

Eng Co. 46

24

Jimmy Scagalione

Ladder Co. 140

LT

25

Tom Reno (C)

Engine Co. 281

26

Colin Riordan

Eng Co. 93

27

Joe Florio (A)

Eng Co 254

28
Kirt Bruckbauer
Ladder Co. 41

29

Kelly Coyle

Eng Co. 328

35

Bill Prang

Eng Co. 310

44

Chris Princiotta

Eng Co. 290